Sioban's Views
Reviews/Footnotes
Philosophy
Early in my career I established a reputation in the challenging field of Public Sculpture. Although hard won at the time, these gentle and sometimes witty sculptures have been adopted as landmarks from Nottingham to Somerset.
Over the ensuing three decades there has been a fairly constant stream of commissioned work for both public and private collections. Having also exhibited widely and regularly, I have been able to make use of these opportunities to produce exploratory new work, as well as show existing editioned pieces.
Clearly the work has grown out of the demands of the figurative tradition. It is recognizable and accessible. From the simplest animal study to a large work in a town centre, there may often be a sense of recognition - an impression that you may have met this individual somewhere before. I hope that this familiarity provides a gateway to a number of different levels or layers.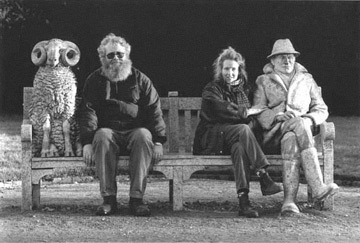 I celebrate versatility, have a deep fascination for materials and techniques, and strive to make things that will last. I have used my career as a research programme, continually developing new ways of working. Sometimes this has achieved recognition, as found in such diverse publications as 'Concrete Quarterly' (Cement & Concrete Association) and 'The Uses of Images' (Ernst Gombrich).
Whatever the chosen media, be it sculpture, drawing, or etching, I aim to combine an acute observation of people and animals with an affectionate and sometimes wry view of both.
To me, the work reveals a continuing conversation about our entanglement with the natural world. Whether described through limbs, leaves, stone or fur, the suggestion is reinforced - can we really see ourselves as so different from other living things?
Increasingly, I have been casting my own bronzes in the foundry which Pete Penfold and I set up in 2005. The work is evolving, using a language cast directly from nature and then interpreted for the particular purpose or context.
By innovative use of materials combined with a distinctive viewpoint, it may be that the work can subtly challenge our concept of what is contemporary.